Toowoomba Qigong Retreat August 4-6 2017

Arrival can begin anytime after 2pm and up until 6:00pm. Car pooling needs to be addressed to ensure everyone can get to the event. The address for the Jondaryan Woolshed is 264 Evanslea Road, Jondaryan, Queensland. The venue covers 160acres. It is a 2½ hour drive from the Gold Coast, and the Woolshed is 30 minutes West of Toowoomba on the Warrego Highway.

Friday
2:00pm                   Arrival time from now until dinner time
2:00-6pm :         Free Time/Free Practice
6-7.15pm :           Dinner
7.30-9pm :             Basic Zhuan Zhang (Standing Post Exercise), Yuerng Sun Gung, Moxa, Microcosmic Orbit Meditation
Saturday
8-9am :                     Intermediate Zhuan Zhang practices – including flying crane postures. Walking Meditation. Fascial Connection using Tiger Qigong.
9-10am :                Breakfast
10:15-11:15am :       Tian Di Qigong, Standing and Sitting Eight Pieces of Brocade, Void and Clarity Qigong
11:15-12pm :         Free Time/Free Practice
12-1pm :                 Lunch
1:15-2:30pm :          Stretch Therapy Session
2:30-4pm :               Bagua Zhang Foundation Exercises and the Er Tui and Dai Tui Bagua Zhang Qigong (Double and Single Leg Forms)
4-6pm :                  Free Time/Free Practice
6-7.15pm :             Dinner
7.30-9pm :               Won Yuen Gung, Yuerng Sun Gung, Moxa, and Microcosmic Orbit Meditation
Sunday
8-9am :                     Advanced Zhuan Zhang practices – including Xing Yi Quan, Bagua Zhang, and I Chuan               postures.   Circle Walking Meditation.
9-10am :                Breakfast
10-11am :                  Stretch Therapy Session
11-12pm :               Free Time/Free Practice
12-1pm :                 Lunch
1-2:30pm :                Moving Microcosmic Orbit Practice.
3pm :                         Leave for home.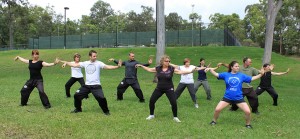 It will be 'cooooold' so bring lots of warm clothes! We will be sitting and standing still for periods of time so keeping warm is key to being able to collect, condense, and move the Qi where you want it. Free time can be used to practice your other arts – Kung Fu, Tai Chi, Weaponry, Qigong, Meditation, Stretching, Monkey Gym, sleep, reading, etc.
What you will need to bring with you –
Training uniforms. Plain/casual clothes. Towel and toiletries, training towel.
Swimmers if you want to brave the creek.
Insect repellent, mosquito coils, sunscreen, hat.
Kung Fu and Tai Chi weaponry, handpads for your own practise.
Camera, books, cards, iPod, ball, Frisbee, or other entertainment you want during breaks – if you have the energy…..
Water bottle, 'in-between training snacks', money if you want to buy snacks at the venue.
Paper and pen to record any training 'secrets' and to ponder them later, or record any questions.
Hand pads, yoga matt, bolster, straps, meditation cushion.
A positive, energetic mind set and lots of energy.
After last year's catering at our event we anticipate some amazing meals again. Let me know of your dietary requirements – vegetarian, gluten free, vegan, breatharian, etc.
We hope everyone has a great time. As mentioned above, be positive and prepared to put effort into getting the most out of your weekend. We will cover a lot of material but the goal is a calm mind, lots of deep breathing, and a relaxed body.
 Cost $300. Deposit $100, Final payments are due by Monday the 1st of August.
Contact Sifu as soon as possible in regards to any questions you have about this event.